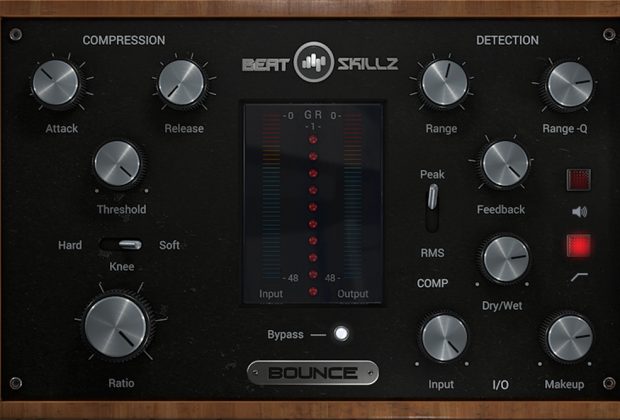 Glue Up Your Tracks With Bounce
Compressors play a major role in deciding the final sonic structure of your song. Even the tiniest change in the setting of attack/release can bring about a major change in the end result.
Since, compressors plays such a huge role in music production and without a doubt, compressing is an art itself, there is no denying the fact that it is one of the toughest parts to learn when you're a beginner, not only that even the pros can make mistakes sometimes in dialing in the settings right!
The reason is, too many controls will lead to you getting confused & too little controls will leave you unsatisfied with the results. So, to tackle that we've our very own Bounce, a compressor we take a lot of pride in. Not only is it easy to use and pleasing to look at, the major plus point is that it sounds good and gives you transparent results.
Some of its features include:
Easy to use
Glue your tracks easily
Add Thrust and Punch to your mixes
Built-in Dry and Wet controls
Many different sound shapes and colors from one plugin
Sounds exciting, right?? Know more about it on its Product Page. Also, check out this awesome introductory video we have up on our YouTube channel:
Now, since we've got you all introduced, let's hear what Bounce can do & how transparent it is:
Example 1: Make a thin saw bass sound absolutely PHAT with Bounce!
(Bass before & after the bounce)
Example 2: Crush & Add punch to a drum loop easily!
(Drums before & after the bounce)
Example 3: Glue together Hi-Hats in no time with Bounce!
(Hi Hats before & after the bounce)

This is the true power of our very own transparent compressor Bounce. Get yourself a Copy/Trial by heading over to its product page here. Happy compressing!
https://cdn-web.beatskillz.com/wp-content/uploads/2018/06/web-sept2016-music-gear-beatskillz-bounce-620x420.jpg
420
620
Simrat Pal
https://www.beatskillz.com/wp-content/uploads/2021/01/beatskillz-icon.png
Simrat Pal
2018-06-26 21:40:01
2018-06-26 21:41:26
Glue Up Your Tracks With Bounce