Papyrus Keys is a virtual instrument with a collection of sounds inspired by New Age artists of the 80s and 90s like Enigma, DeepForest, Vangelis, Enya, and others.
Lush Pads, Nature sounds, Lead Flutes, and other Orchestral and World Elements are bundled into one instrument to inspire you. All sounds are professionally produced and sampled and preset generated using our own synthesis and effects engine.
These are ready to play!, Just go through the presets and you will be instantly inspired to make new music. Whether you make film soundtracks or pop music, this is a must have collection for all artists and composers.
Factory Presets :
Comes Bundled with 200+ Factory Presets: 19 World Sounds, 24 Pads, 23 Elements, 11 Voices, 48 Orchestra Sounds, 10 Sequences, 23 Keys, 18 Bass, 13 Key Splits, 6 Drums Kits, and 9 Synth sounds.
Multi-Sample Maps :

17 Bass maps, 6 Drum kits maps, 14 Elements maps, 5 guitar maps, 23 Keys maps, 32 Orchestra maps, 20 Pads maps, 14 Synths maps, and 17 World maps.
The 2 Multisample Maps Engines A and B can be Layered or Split on the keyboard with automatic assignment via MIDI.
All Controls on the plugin are MIDI mappable easily with a "right-click".
Library Relocate :
Easily place the content on any internal or external drive of your computer and just use the settings icon to
Locate your library once. You can move the content anywhere at any time and re-connect it with the plugin.
Synthesis Features:
Each Engine Features :
Amp Envelope – ADSR
Filter envelope – ADSR
Pitch Envelope – ADSR3 LFOs for Filter, Volume, and Pitch respectively.
All Syncable to tempo. Features Rate and Depth Controls.
Analog Modelled Ladder Filter with LP, HP, and BP modes with 12 or 24dB / Oct selections.
Filter Cutoff and Resonance controls.
Pitch Transpose, Tune.
Portamento (Glide) with rate parameter.
Velocity to Volume Curve adjustment & Velocity to Filter Cutoff Curve Adjustment.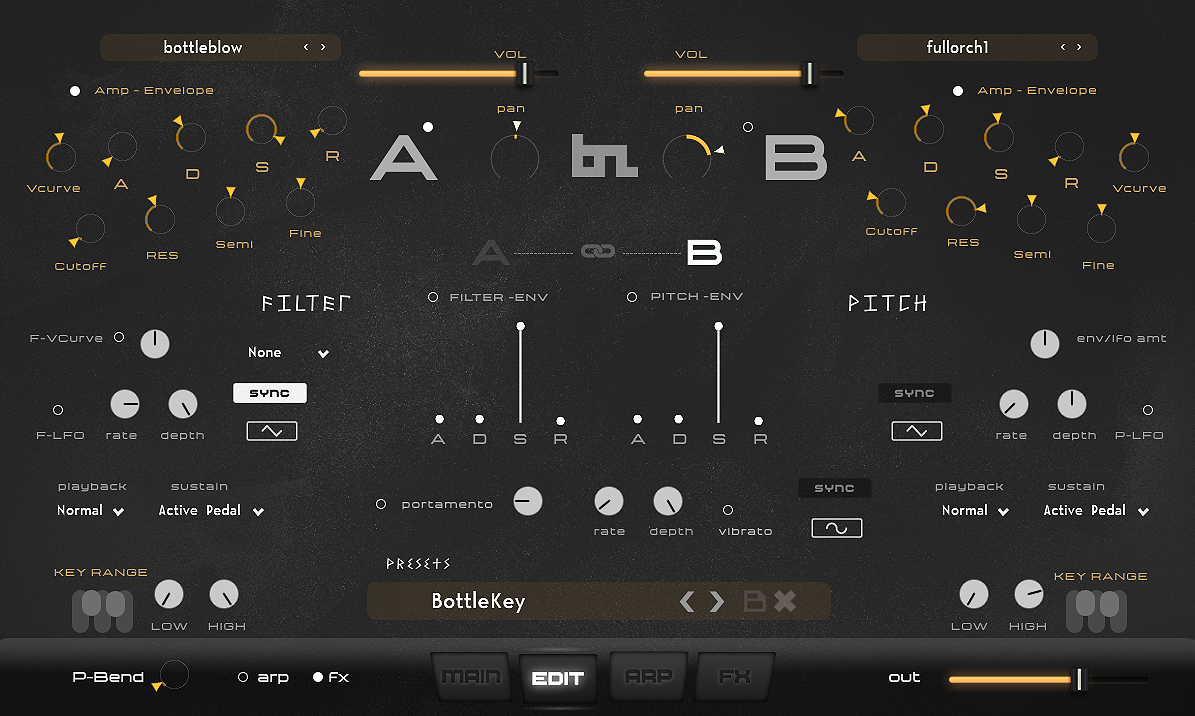 Arpeggiator :
Up to 32-step Arpeggiator synced to tempo with Modulation in steps for :
Velocity, Note Length, and Pitch.
Save your own patterns and load factory patterns.
Step Increment, Swing, and other features are also implemented.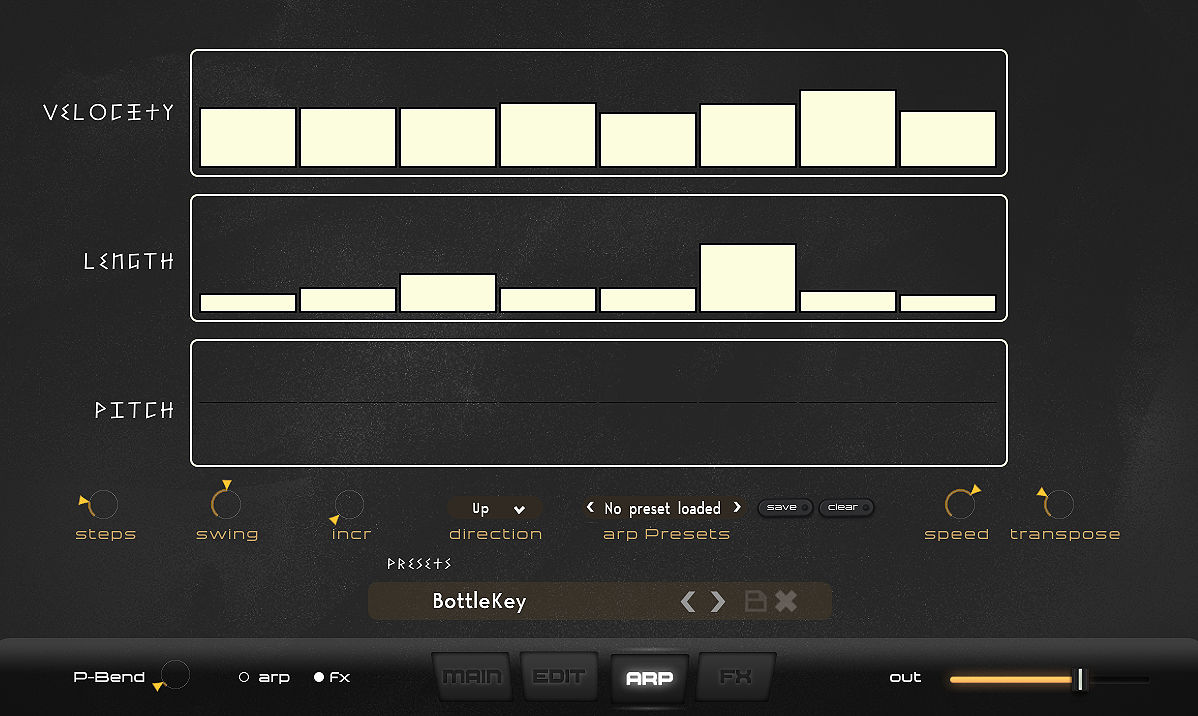 FX Engine:
9 Swappable Effects available :
Reverb, Chorus/Flanger, Phaser, 4 Band EQ, Compressor, Drive, Bit Crusher, Delay,  and Stereo Expander.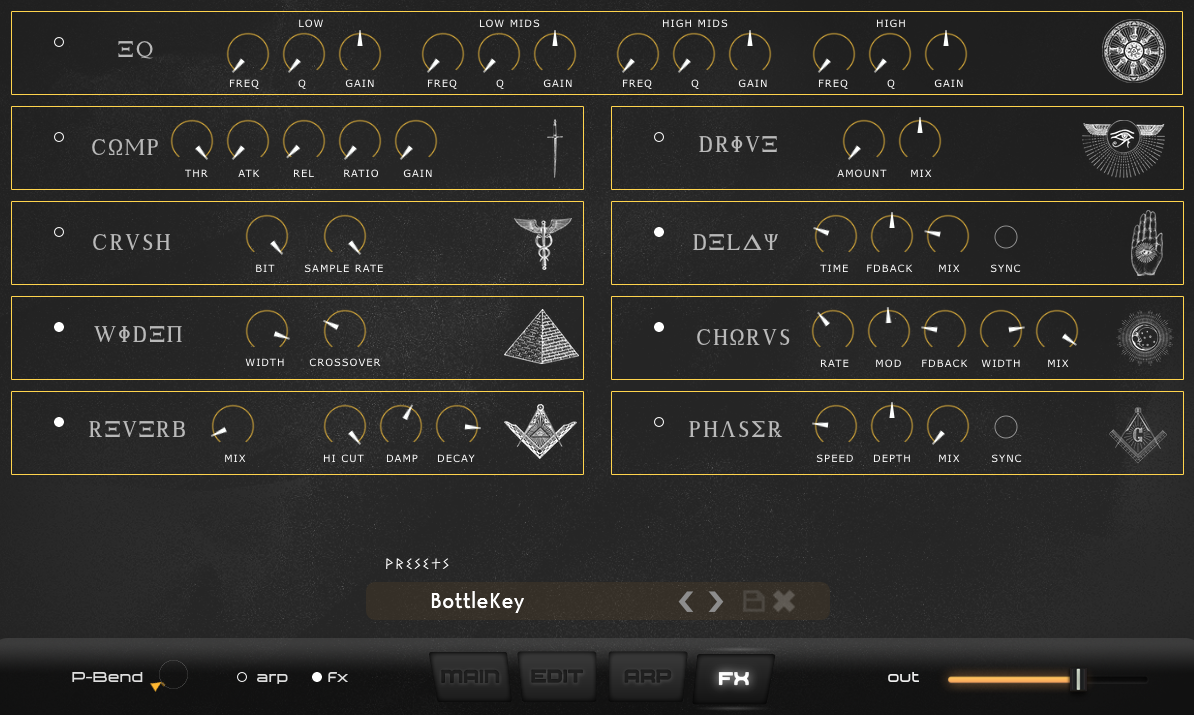 SYSTEM REQUIREMENTS

VST3, AU, AAX (64-bit host)

Windows 10 or later / OSX Mojave or later
Intel i5 or later / AMD Athlon 64 or equivalent 2 GB RAM / 300 MB HD
Tested on :
MACOSX: Logic 7.2, Ableton Live 11, Protools 12, Fl Studio 20
WINDOWS: Ableton Live 11, Protools 12, Fl Studio 20, Bitwig, Reaper, Cubase.
Setup and License Registration:
This plugin uses an online-based license registration system that requires an internet connection. When in trial mode, your computer needs to be online to use the plugin.
Once the plugin is registered, you no longer need to be online to use it. We offer a 15-day trial period for the plugin.
The license registration window allows you to log in to your Beatskillz account directly, and the plugin will automatically authorize if you have purchased it from the Beatskillz site. In case of a purchase from one of our third-party distributors, you can create an account from the website or from the license window of the plugin. Then enter your serial code provided by the third-party distributor (e.g., Plugin Boutique), and the plugin will authorize.
*An internet connection is required
INSTALLATION
OSX:
– Download the PapyrusKeys_OSX.pkg file and click open
– Follow the instructions install the plug-in(s) Follow the instructions to install the plug-in(s)
Windows:
– Run PapyrusKeys_WIN.exe
– Follow the instructions to install the plug-in(s)
To install the Content Folder, please follow these steps:
1. Download the Content folder from the download section.
2. Extract the Content folder to a Drive of your preference.
3. Open your DAW and click on the gear icon within the Papyrus interface to choose the location of the Papyrus Content folder.
4. Select the folder named "Papyrus" (Content folder) that you extracted to your Drive. After this step, the content will be automatically loaded.
5. Restart the plugin to complete the installation process.
Note:
For users: Windows
If you are planning to move the content of Papyrus keys to another location, please make sure that the target destination has folder write and read permissions before moving.
For resetting Papyrus keys back to factory settings and locations, please delete the file "Papyrus_settings" from the Documents folder.
For users: OSX
For resetting Papyrus keys back to factory settings and locations, please delete the file "Papyrus_settings" from the Documents folder.