Introducing Chorust – a vintage modulation plugin with lo-fi and ladder filter controls that is a remarkable addition to your audio production toolkit, transporting you back to the golden era of lush and captivating sounds.
This meticulously crafted plugin combines the timeless charm of vintage chorus effects with cutting-edge capabilities, allowing you to infuse your music with a touch of nostalgic elegance.
Virtual Instrument
$9.00 $29.00 * Free until 15th June
* License Authorization needs an internet connection.
Chorust takes inspiration from classic hardware units and breathes new life into them with its advanced lo-fi and filter controls. With these intuitive parameters, you have the power to sculpt your audio's spaciousness and depth, effortlessly recreating the "sweet and silky" sounds found on many 70s/80s records.
But Chorust doesn't stop there – it introduces ladder filters to add an extra layer of sonic character to your tracks. These legendary filters, known for their smooth and musical response, let you shape the timbre and frequency response of the audio, further enhancing its vintage authenticity. Sculpt your audio with precision, dialing in the perfect amount of modulation and width to captivate your listeners.
Harness the sonic allure of vintage chorus effects, unleash your creativity with lofi controls, and add a touch of nostalgia with ladder filters – all within the convenience of this extraordinary plugin. Step into the past, shape the present, and redefine your audio with Chorust.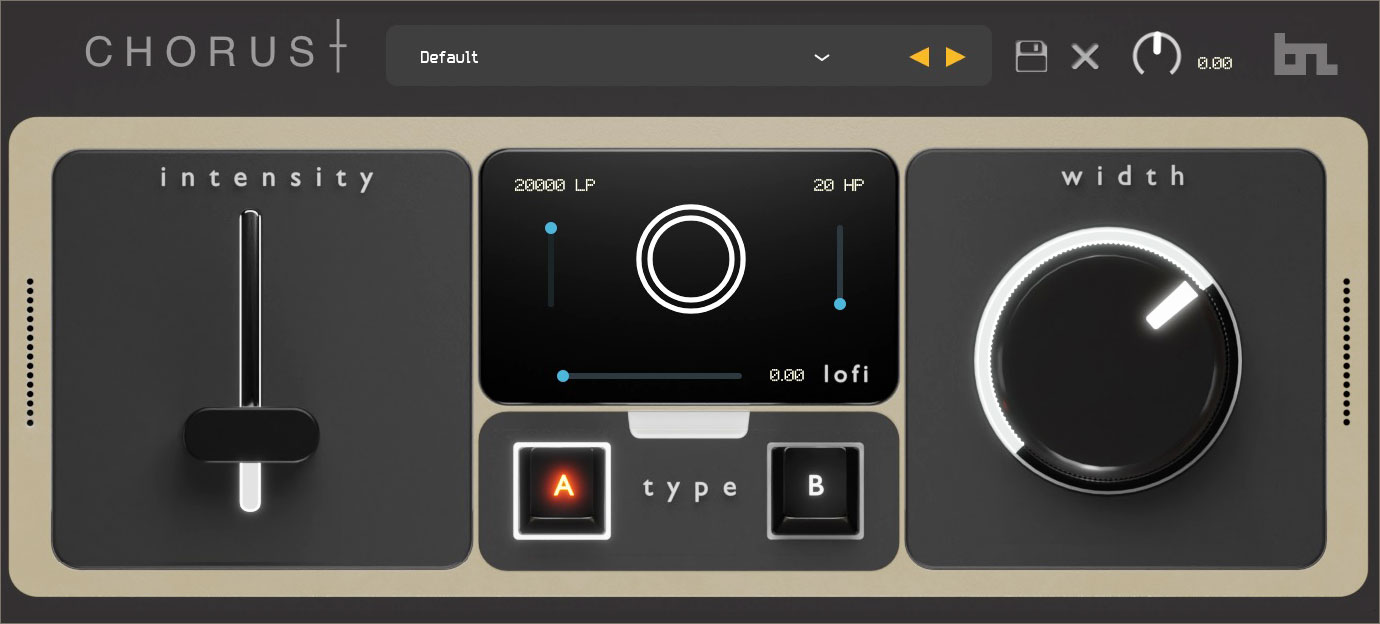 1
Intensity: This controls the amount of modulation applied to the incoming signal.
2
Width: This control is used for increasing or decreasing the spatial width of the modulation effect.
3
Lo-Fi: This control combines sample-rate reduction , bitcrushing and noise addition for true vintage emulation of hardware units.
4
Lp: This controls the cutoff frequency for a 24 dB/oct Low Pass Ladder Filter which affects the post processed audio.
5
Hp: This controls the cutoff frequency for a 24 dB/oct High Pass Ladder Filter which affects the post-processed audio.
6
Out: This is for adding or reducing upto 12 dB of output gain.
7
Preset Save Button: By clicking on this button, you can save your custom presets.
8
Presets: This plugin comes with a good amount of presets, Choose these as a starting point, or create your own from scratch.
9
Type : A is a lighter modulation and B is a heavier modulation .
Plugin Format : 
MAC OSX – VST3/AU/AAX – 64bit
WINDOWS – VST3/AAX – 64 bit
PC/MAC: Windows 10 or later*
MacOS 10.13 or later ( Intel/M1/M2- Native Supported )
Minimum System Requirements:
Intel i3 / AMD Ryzen or equivalent
VST3, AU, or AAX 64-bit host
Installation:
OSX:
Download the Chorust.pkg file
Double-click on the package and click open
Follow the instructions to install the plug-in(s).
Windows:
Download Chorust.exe
Follow the instructions to install the plug-in(s).
Setup and License Registration:
This plugin uses an online-based license registration system that requires an internet connection. When in trial mode, your computer needs to be online to use the plugin.
Once the plugin is registered, you no longer need to be online to use it. We offer a 15-day trial period for the plugin.
The license registration window allows you to log in to your Beatskillz account directly, and the plugin will automatically authorize if you have purchased it from the Beatskillz site. In case of a purchase from one of our third-party distributors, you can create an account from the website or from the license window of the plugin. Then enter your serial code provided by the third-party distributor (e.g., Plugin Boutique), and the plugin will authorize.
*An internet connection is required
Acknowledgments:
Gaurav Dayal –  Programming
Bharat Singh – GUI Designer