Synthwave Drums V2 covers styles from synthwave, vaporwave, retro, the 80s, and nu-disco
&

boogie styles of music.
A selection of over 100 presets full of synthwave drum sounds, already processed and ready to inject into your production. We have done the hard work, so you don't have to!
The Library
The Drum Kit Library included is organized by Drum Kits, and also, as single category hits like: kick, snare, hats, etc. Over 1300 drum sounds organized into quick browsable presets, ready to play.
This makes it easy to access these beautiful sounds and quickly get a beat going effortlessly, so you can produce and compose faster.
Key Features
Synthwave drums V2 now has newly added features such as a VCA (British Console) compressor and a 3-band EQ.
Want to replace any of the sounds in a kit with your sounds? No Problem. You can also drag and drop your samples onto any of the 12 pads. Multi out per pad is built-in and change Pitch, Volume, Pan and Release per pad. Save and edit your own presets. Move the sample content to external drives easily.
Also, reassign any of the pads to any midi key. Solo and Mute per Pad.
*Additional features include sample content moving, so you can easily move your samples and content with one click to another drive without any hassle of copying of configurations.
Beatskillz studied all aspects of vintage drum machine production and tried to give you a fast workflow & ease of use without compromising quality, usability, and inspiration.
Interface
Synthwave Drums V2's interface is pretty straightforward, and as you can see, everything is laid out visually.
1 – The PAD selector button on top of each Pad lets you select the Pad whose parameters are to be modified in the control panel on the right.
2 – 16 Drum Pad Slots
3 – Vol controls per Pad
4 – Pad Edit – Side Panel: Control additional parameters per Pad such as:
A. Midi-OUT Selector
B. MIDI Note Assignment
C. Release
D. Pitch
E. Pan
F. Volume
G. Solo and Mute Button
5 – Equalizer ( Adjust low, mid, High )
6 – Compressor ( with Amount control knob )
7 – Output Control Knob
8 – Preset Selection – This allows the user to select and navigate between the different factory presets and Folders. Save and Delete kits on the fly quickly. Navigate forward or backward in the preset list with the "< "and ">" buttons.
9 – Sample Content Moving Settings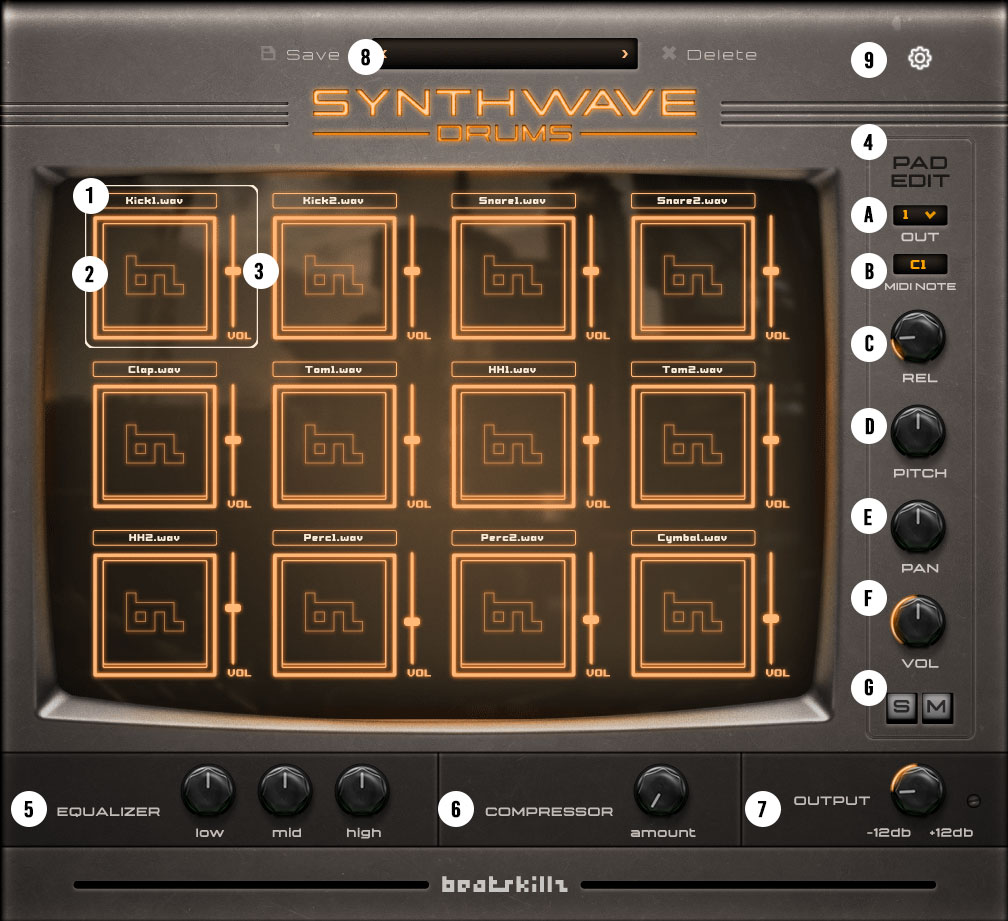 PLUGIN FORMATS

SYSTEM REQUIREMENTS
Windows 10 or later / OSX Mojave or later (Catalina and M1 – BIG Sur Supported) ( NOT TESTED ON MacOS Ventura* )
Intel i5 or later / AMD Athlon 64 or equivalent 2 GB RAM / 300 MB HD
VST3, AU, AAX (64-bit host)
INSTALLATION
OSX:
– Download the SWDrumsV2_OSX.pkg file and click open
– Follow the instructions to install the plug-in(s) Follow the instructions to install the plug-in(s)
Windows:
– Run SWDrumsV2_WIN.exe
– Follow the instructions to install the plug-in(s)
Note:
For users: Windows
If you are planning to move the content of SWDrumsV2 to another location, please make sure that the target destination has folder write and read permissions before moving.
For resetting SWDrumsV2 back to factory settings and locations, please delete the file "SWDrumsV2_settings" from the Documents folder.
For users: OSX
For resetting SWDrumsV2 back to factory settings and locations, please re-install the plugin and restart your system.