Description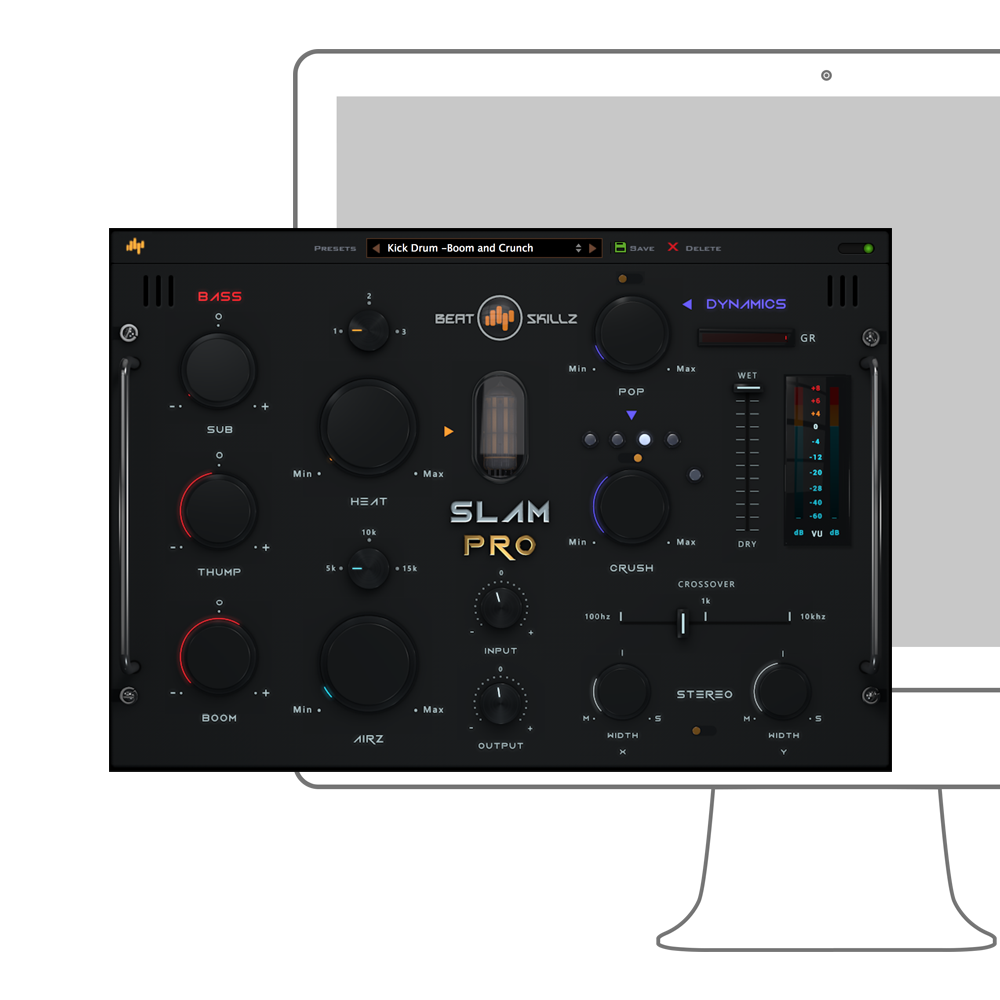 The Ultimate Channel Strip – Shape your Drums, Bass, Synths, Vocals and more…
Enhance your Sound and Workflow
Slam Pro is a simple yet powerful tool, with just the right controls to dial in the sound that you desire quickly. Pro Engineers use a combination of various processes to achieve great sounding tracks consistently. Slam Pro brings you such a combination of perfectly executed hardware emulations, which bring the same workflow to your setup.
Features
Bombastic Bass: Add or cut the 'Thump', 'Boom' or 'Sub' Bass to your track. Add thump to kicks or boom to 808s, and also remove mud in seconds
Heat/Airz: Garnish your track or mix with Tube/ Tape Saturation (3 types selectable). Add clarity to your mix or track with the Airz control (3 frequencies selectable using the high-shelf filter)
Pop/Crush: Use any of the 4 types of compression ('Pop') to glue – add punch, or control to your track dynamics and then 'Crush' to provide your track or mix with loudness
Stereo Width: Use the Band-slider to set the crossover for 2 bands of stereo expansion. Widen your track, yet keep the bass frequencies in the centre. Achieve full control of your stereo-width with no hassle
Download Trial
System Requirements
Mac:
OSX 10.6.8 or later
Intel Core 2 Duo 2 GHz
2 GB RAM / 300 MB HD
Screen resolution: 1024×768
VST2, AU and AAX compatible (32-bit or 64-bit host)
Windows:
Windows XP SP2 or later
AMD Athlon 64 or equivalent
2 GB RAM / 300 MB HD
Screen Resolution: 1024×768
VST2 and AAX compatible (32-bit or 64-bit host)
Note: An internet connection is required for download and activation.
Installation
OSX :
Extract Slam Pro ZIP file and double click on the slampro.pkg file
Right click on the package and click open
Follow the instructions to install the plug-in(s)
Windows :
Run slampro.exe
Follow the instructions to install the plug-in(s)
Registration :
In demo mode the plugin will fully function for 15 days (trial mode) . Upon purchase, just enter your Serial Key and Email Address and the plugin will be fully functional with no restrictions.
Protools and Cubase, Does not support the Registration. This is not a Plugin Issue, Quick for this is to Download a Trial version of Ableton, and Register the plugin on it. Upon registration completion, it will work perfectly on Protools and Cubase.
Change Logs :
Slam Pro V 1.3 Update
1. Registration issue fixed