Description
Slam Xl is my new go-to channel strip plugin .the crew at Beatskillz pulled out all the stops for the beast . Fantastic Eq, Comp/Limiter,Saturation & Stereo Widener section makes this an absolute must have in every Producer's toolbox. & it sounds Killer !!!!
Super easy to use too. Love it !!
Most all-in-one plugins are easy to overdo. But, the more dig in with Slam XL, the sweeter it sounds!
The key to that "perfect" mix or that "hit" track can sometimes be the right tools and colours. Sometimes if the processors get too complicated and have a multitude of options, then we can also easily get "disconnected" from our inspiration.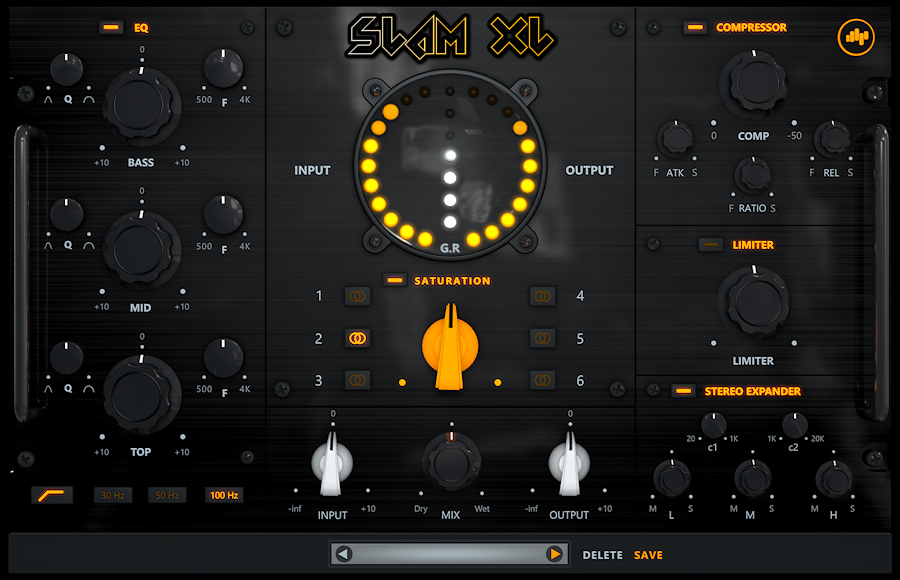 SLAM XL is that "perfect" channel and bus fattener, that can instantly bring your beats, keyboards, live instruments, vocals or percussion to life, without the need of chains of plugins or very complicated plugins, which take more time and are difficult to use.
The easy and appealing interface of Slam XL gives you instant control over equalization, saturation, compression, limiting and stereo expansion right out of the box from one plugin, so you don't have to reach out for other plugins or break your creative flow.
But.. this is not the only reason. For us at Beatskillz, SOUND is "everything!" We went insane capturing 6 analog paths involving transformers, tubes, and transistors for our Saturation Section.
Wait till you plug this guy into your channels or busses, and quickly tweak the sound to get pleasing results fast!
With a plethora of presets already included to get you started, Slam XL might just become the "first" plugin you will reach for when producing or mixing your tracks.
Low latency and CPU light processing enable you to live track your instruments, vocals or drum machines & keyboards in real-time, so you can shape the sounds of your music very very quickly.
This is the 3rd generation of our "SLAM" plugins, the concept that we started our company with. Your loving response has led us to bring you even better-sounding plugins each year!
Controls
EQ SECTION
EQ in / bypass button: Switch the Eq section on and off.
BASS Band: This band features a frequency control with a range of 50 Hz to 200hz, a Q control for the bandwidth of the bell filter and the Gain Control for the band.
MID Band: This band features a frequency control with a range of 500 Hz to 4K, a Q control for the bandwidth of the bell filter and the Gain Control for the band.
TOP Band: This band features a frequency control with a range of 5K to 15K, a Q control for a bandwidth of the bell filter and the Gain Control
for the band.
Low Cut Filter: This features a 12db/ octave low cut filter with a selection of 20, 50 & 100 Hz and off.
Saturation:

Saturation in / bypass button: Switch the section on and off.
6 Selectable Saturation types buttons): Get 6 distinct saturation flavors to choose from. These have been captured from various analog equipment both new and vintage to give you anywhere from "smooth" to "crunchy" styles.
Saturation Amount: Use this control to dial in just the right amount of saturation. We've made this control super smooth, so you can easily dial in "sweet spots"
I/O & Wet/Dry
Controls for changing the input and output gain as well as a "wet/dry" control has been provided, so that the user can adjust gain staging and also the intensity of the processing. Want to mix in the original signal? No problem just dial "left" add it back into the mix.
Compressor
A compressor designed for "BUS" glue with full controls featuring Attack, Release, Ratio, And Compression Amount (threshold)
Limiter
A "loudness" limiter designed to bring more levels and apparent loudness to your tracks or busses without any compromise. Easy to use with one control. No Pumping!
Stereo Expander
A full 3 band stereo expander based on the Mid/Side method and with crossover controls for the bands, enables you to easily "widen" or "narrow" down the spatial image of your material quickly.
METERING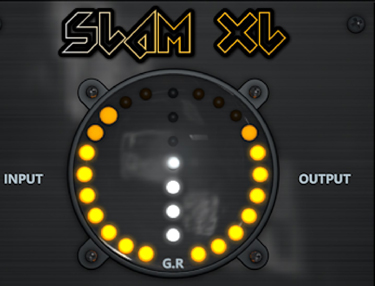 The metering section provides modern LED style metering for a visual signal response. This Features an LED strip on the left for the input signal, an LED strip on the right for the Output signal. The Center LED strip depicts Gain Reduction when the compressor Section is in use.
PRESETS
The Preset bar allows a user to quickly select factory presets in various categories for instruments or bus/ mix applications. You can also save and delete presets from this bar.
Download Trial
System Requirements:
PC/MAC:
Windows 10 / macOS High Sierra 10.13.6 or later (Catalina Supported, macOS Big Sur/ M1 not compatible)
Intel i3 or later  / AMD Athlon 64 or equivalent 2 GB RAM / 300 MB HD
Installation
OSX:
Download the slamxl.pkg file
Right click on the package and click open
Follow the instructions to install the plug-in(s) Follow the instructions to install the plug-in(s)
Windows:
Run slamxl.exe
Follow the instructions to install the plug-in(s)