Description
made some killer songs with this baby
Synthwave / Vaporwave & Nuwave are 80s revival genres of music with a modern twist. This style has soon come up from the underground to the mainstream with countless artists releasing new tracks with the "synthwave flavor".
This virtual instrument is a collection of 100 fabulous sampled presets from various analog synthesizers running through legendary effects and outboard gear.
This process brings a rich and unique "analog" quality that is different from virtual emulations of real synthesizers.
A wide palette of instantly recognizable sounds from basses leads to pads and effects has been carefully designed and programmed to inspire you. Just plug and play is the motto at beatskillz. This helps to focus on music and creativity rather than get lost in endless sound tweaking to get results.
Our sample playback engine includes effects such a global pitch, reverb, LFO, ADSR and a multimode filter for further tweaking of the sounds.
This sound set is inspired by the works of artists such as Kavinsky, The Midnight, Com Truise, Mitch Murder, Dynatron, Time Cop etc
CONTROLS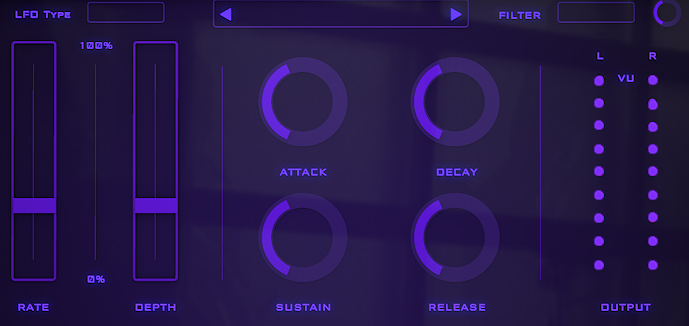 LFO TYPE: Choose the wave type of the loo, the options are – Triangle, saw, sin, square & exponential.
LFO DEPTH: This control lets you set the depth of the lfo.
LFO RATE: Set the speed/ rate of the Lfo with this control.
ADSR: Control the amplitude envelope of the sound by changing the attack, decay, sustain and release of the patch.
FILTER TYPE: Choose the filter type – none, low pass or high pass.
FILTER CUTOFF: Control the cutoff frequency of the filter.
GLOBAL EFFECTS

PITCH: Change the tuning of the instrument with the Pitch control.
REVERB: Use the reverb to add space to the preset sounds.
VOLUME: Adjust the overall volume of the patch.
DISPLAY KEYBOARD

A display Keyboard with 2 layers is present in the GUI.
The upper key range is: C2 – E4
PRESETS:
Contains 10 bass presets, 4 Bell presets, 8 brass presets, 10 fx presets, 9 leads Presets, 7 Pads Presets, 6 Perc Presets, 11 Plucks, 14 Solo Presets, 6 Sweeps and 10 Synths.

Installation
OSX:
Download the synthwavekz- AU.pkg or synthwavekz- VST.pkg file.
Right click on the package and click open
Follow the instructions to install the plug-in(s) Follow the instructions to install the plug-in(s)
Reboot your Mac once and Reopen your DAW, Rescan the plugins database.
Windows:
Download Synthwave KZ Files.
Make sure to copy and paste the Dll and Instruments files into a New Folder.
Rename it as Synthwave KZ, Cut and Paste Synthwave KZ folder into Your Main VST database folder.DAW-based known issue:
Reaper users may experience the crashing of their DAW while loading the plugin.