Description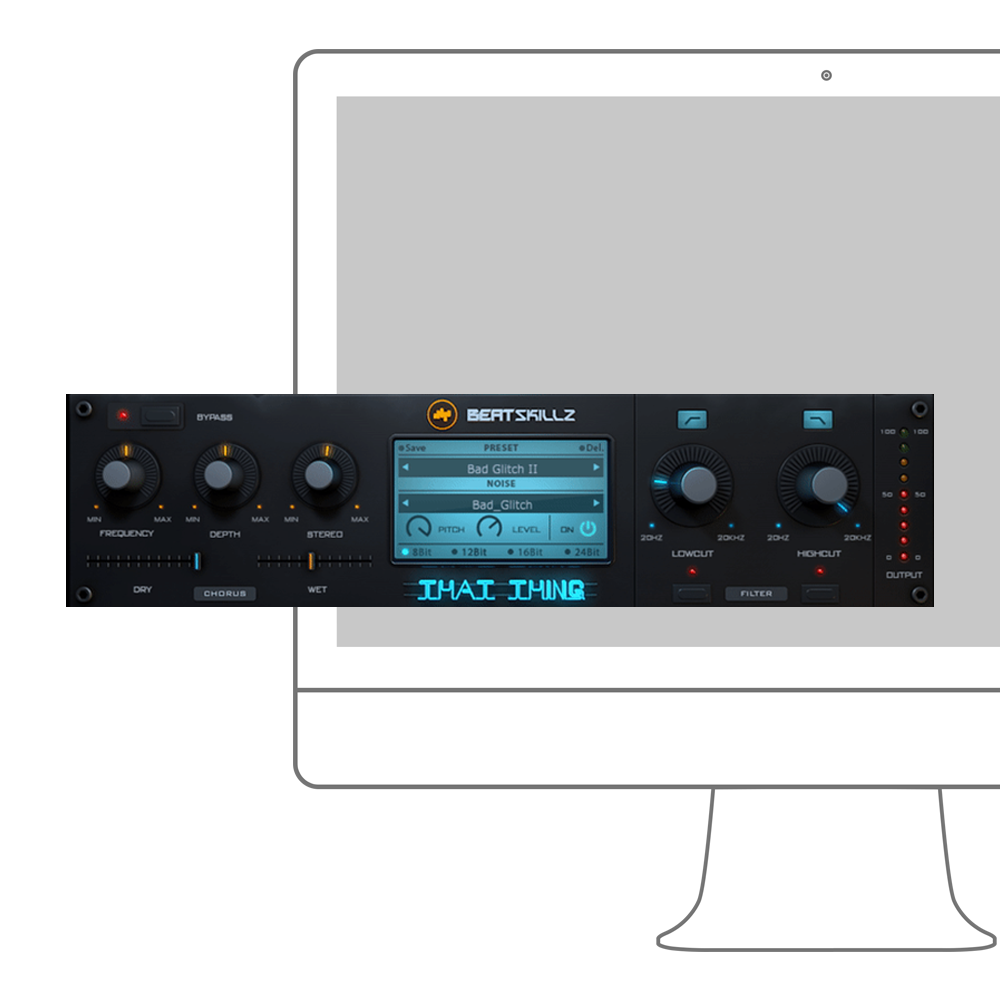 Multi-FX Processor
Add Textures, Chorus, Bit Crusher and HP/LP Filters.
There was something about older drum machines and synths that made them sound punchier and more pleasing than today's clinically perfect sounds.
That Thing is a multi-effects processor that has been designed to get you 'That Thing' missing from digitally perfect tracks today. It features a beautiful wide and deep chorus section great to thicken anything from synths, vocals, bass, pads drums and other sounds. The soundscape generator features samples of old vinyl players, tape machines, old radio, tube gear, atmospheres, ambiances etc – you can even add your own!
Features
Chorus FX: Analog Modelled Chorus for wide, thick and rich sounds
Soundscape Generator: Use our present samples of Vinyl, Tape, Tube, and Nature, or sample your own and use them!
Filters HP/LP: Analog Modelled Low-Cut and High-Cut Filters provide further sound shaping
Bit Crusher: Emulate Vintage Drum Machines and Samplers with the bit-crush feature, to induce more grit into the sound
Now includes 'Dark Atmo' texture bank
Installation
OSX :
Extract ThatThing_MAC.zip
Double click on the DMG image thatthing.dmg
Right-click on the package thatthing.mpkg and click open
Follow the instructions to install the plug-in(s)
Windows :
Extract ThatThing_WIN.zip
Run thatthing.exe
Follow the instructions to install the plug-in(s)
Registration :
In demo mode the plugin will fully function for 15 days (trial mode) . Upon purchase, just enter your Serial Key and Email Address and the plugin will then be fully functional with no restrictions. (Internet connection required)
Kindly make sure not to leave a blank space after the serial key.
How to insert custom samples :
1) Click on the beatskillz logo on the plugin, select the "open sample folder" option from the menu.
2) Drag your own samples – ".wav" files into the "samples" folder that opens up.
3) Click on the beatskillz logo again and select the "Refresh Samples" option.
4) Your newly added samples will now show up on the "noise list" (the blue selector space below the preset list space)
5) Save your preset and recall at any time.
Change Logs :
UPDATE 1.3
"Clicks" and "Pops" occuring on some presets have been fixed.
New Dark Atmos Texture Sample Bank included.
Upload and use your own textures
Improved Hp/LP filters
Better compatibility across most DAWs and OS.